SOMETHING NEW IS ON ITS WAY

Watch out for THE OUTER REACHES. This is a new series of quirky murder stories and it begins in November with the release of BODY HARVEST as a paperback and an ebook. Two 16-year-old detectives Ė Troy and Lexi Ė are faced with a horrible find of three bodies (perhaps four, itís hard to say) in a wood. Troy is human like you and me. Heís a major. But Lexi is an outer. She belongs to the other human race that exists alongside majors. This adds tension and humour as they go about their investigation of the bodies which have quite a few internal organs missing.

I think this series will appeal to the fans of my TRACES books, so why not give THE OUTER REACHES a try? After BODY HARVEST later this year, itíll be LETHAL OUTBREAK, FATAL CONNECTION and BLOOD AND BONE next year.

All of the TRACES novels - including the 7th, MURDER CLUB - are available as ebooks from Amazon right now. So is my thriller, PLAGUE. This is a novel that I particularly enjoyed writing. Itís gruesome, scary and comes with a virus that makes its victims bleed from just about everywhere. In fact, itís so horrible, whatever you do, donít read it! But it won two awards. Sadly, the paperbackís out of print so Iíve posted it on Amazon alongside the TRACES ebooks. Donít blame me if it makes you squirm. I did warn you.

Talking of squirming, TRANSPLANT is now online as well. Itís a thriller about a face transplant and it oozes both threat and pus. Surely, with a new appearance, Cassie will be safe from the terrorists who are after her. Or maybe not.

I hope you enjoy my site. There are lots of things to discover. If you click on BOOKS, youíll get a list of my novels, cover designs, blurbs and reviews. If you want to review one of my books, you can do that as well. Thereís a way of contacting me too. So, if youíre trying to get hold of one of my older hard-to-find books, you can check if Iíve got a copy for sale. Or you might just want to ask me a question. If lots of you ask the same question, Iíll put it Ė and my answer Ė in the FAQs section.

Before you write and ask me a question, please check if the answer is already in the ABOUT MALCOLM, FAQs or BOOKS sections of this site. That way, youíll find the information much quicker.

I try to respond to all messages but occasionally someoneís email provider refuses my reply. Either some filters are a bit too protective or thereís a spelling mistake in your email address. If you want a reply from me, please make sure you type in the right email address.

In the first chapter of my thriller, JORDAN STRYKER: BIONIC AGENT, my 13-year-old hero is so badly injured in an explosion that he dies. For one thing, he loses his right arm. But modern medicine revives him and gives him a new life and some amazing body enhancements. The question is: what will Jordan choose to do with his bionic body? He could use it for good or as a weapon. He becomes a secret agent for the mysterious organization called Unit Red, using his new abilities to investigate unsolved crimes, terrorism and bad guys who are beyond the reach of normal policing. The second book of the series, JORDAN STRYKER: CYBER TERROR continues his exciting and dangerous undercover work as a bionic agent. This time heís facing an electronic threat that could mean the end of civilization.

Iíve published three short thrillers: FOUR DEGREES MORE, ANIMAL LAB and ASTEROID. FOUR DEGREES MORE is an environmental thriller, ANIMAL LAB is a controversial story about experimenting on animals, and ASTEROID is a threat to every higher life form on the entire planet!

By the way, you can click on the latest covers in the Books section and go through to Amazon where you can buy the books. Yeah, I know itís a bit commercial but some of you might appreciate it.


Prepare yourselves for cyber warfare! Jordan's new mission in JORDAN STRYKER: CYBER TERROR is an edge-of-your-seat cyber thriller, packed with high-octane twists and turns. He has to track down a cyber-terrorist who's destroying computer systems, wreaking death and devastation all over the world, threatening civilization itself. And he has to do it fast - before the terrorist scrambles the microchips that control his bionic body.

I've written two more novels in the SHADES series. SHADES is a series of short books that are strong on drama, pace and style. The SHADES books are ideal for readers who find traditional novels too long, but still want exciting plots, strong characters and a fast pace. In other words, they're designed for readers who prefer their stories to be a snack rather than a gut-busting feast.

My second SHADES thriller is ANIMAL LAB, on the theme of animal experiments, animal rights – and animal wrongs. Imagine you're ill. You want a cure. There's a medicine in development that will help. But, before it can be given to you, it has to be tested on animals. For some of those tests, animals will suffer and be sacrificed. Do you still want the cure? Are you more important than rats and monkeys? ANIMAL LAB is all about this controversial part of science and medicine.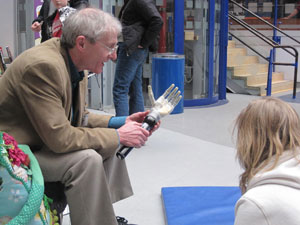 Malcolm demonstrates a robotic hand from
Touch Bionics at the Newcastle Science Fair
The third book for this series is ASTEROID. For years, I have put individual characters under threat in thrillers and crime stories. In ASTEROID, I decided to threaten the whole of humanity with extinction through an asteroid strike on Earth. Nature is far more powerful than us humans (just think of devastating earthquakes, severe storms, viruses, volcanoes and the like) and this novel shows it!
The sixth TRACES book is BLOOD BROTHER. There's a serial killer operating in York Hospital and it's Luke's job to track him or her down. He also has to figure out a motive for murdering patients. The book contains a fascinating collection of real diseases, like stone man syndrome. But which are natural sicknesses and which have been caused deliberately? The exotic poisons, plants, medical treatments, and research on human body parts are all authentic as well. The Institute of Biomechanical Research is fictional but its gruesome experiments have all been carried out in actual laboratories. And that includes the catapulted human head.